I'm Aunt Nola, a creative individual, recycling my life skills and lots of reclaimed textiles.... As a online publisher, I am WebMasher.
Making a difference, one stitch at a time, I established groups and projects to assist those less fortunate. Through collaboration and lots of donations, we have been helping families since 2013, living in Phuket.
Karen Ellison is Aunt Nola
NOLA: Born in New Orleans; I'm a mom to 3 dogs and Auntie to many nieces and nephews.
NOW: Creative specialist in recyling and reclaiming unused items (or skills) to have fun and help charities and small businesses. I've been living in South East since 2005 and 'retired' since 2009.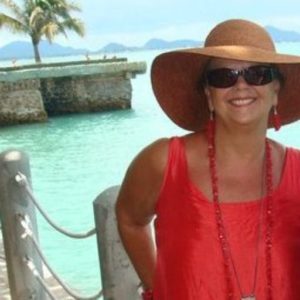 THEN: Former corporate America technical sales professional with lots of global experience and 35+ years working for high-tech companies like Microsoft, Honeywell, and others. Along the road, have developed and practiced proficiency with Microsoft Office products used to manage large virtual teams worldwide to achieve outlandish scorecard measurements. And now I just do stuff for fun.
Reimage - Recycle - Reuse - Reclaim - Repurpose